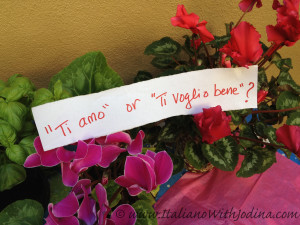 "Ti amo" or "Ti voglio bene"?
That is the question for italophiles this upcoming day of San Valentino.  The answer, it turns out, depends on the object of your affections.
"Ti amo" (I love you) is reserved for romantic loves, while "Ti voglio bene" (I want/wish you well) is used to say I love you to everyone: family, friends, and lovers. Per non fare brutta figura (to not make a faux pas) watch the video below!
After the video, check out the round-up of Italian love phrases to help you sweep your adorato (adored one) off their feet! Plus a link to send free online Italian Valentine's Day cards.
Video:  Saying "I love you" in Italian
Be your own Don Giovanni with these romantic phrases!

Buon San Valentino (Happy Valentine's Day)
Ti amo. (I love you. Used only for romantic love.)
Ti adoro. (I adore you.)
Amore mio (My love, my beloved)
Tesoro mio (My treasure)
Ti voglio bene. (I love/care about you. Used for all types of relationships: family, friends, lovers.)
I tuoi occhi brillano come le stelle. (Your eyes shine like stars.)
Sei bella come una rosa. (You are as beautiful as a rose.)
Per sempre (Forever)
Per sempre tua,o (Forever yours)
Sono pazza,o di te. (I'm crazy for you.)
Anima mia (My soul)
Sei incredibile. (You're incredible.)
Sei bellissima,o. (You're very beautiful.)
Sei un dono. (You are a gift.)
Sei stupenda,o. (You're fantastic.)
Send a free online Italian Valentine's card to someone special at www.kisseo.it.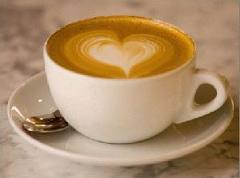 A tutti i miei lettori un buon San Valentino! Siete stupendi! (To all of my readers, a happy Valentine's Day! You're fantastic!)
Got a favorite Italian  love phrase or anecdote? Ever wished someone Happy Valentine's in italiano? Sei un tipo romantico? (Are you the romantic type?) Leave a comment below!