Around Italy, i ragazzi, the kids, are getting ready to hang their calze, stockings, by il camino, the chimney, with care, in hopes that la Befana soon will be there.
i bravi, the good ones, will get caramelle, candies, and little regali, presents, while i cattivi, the bad ones will get carbone, coal.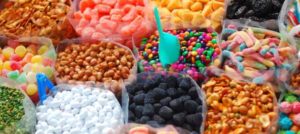 While Babbo Natale, Santa Claus, comes on Christmas Eve, la Befana arrives during the night between January 5/6, coinciding with l'Epifania, Epiphany.
There are other noteable similarities and differences between the main present-bringer, Santa, and la Befana.
Just like Babbo Natale, la Befana travels through the air. In place of a sleigh with flying reindeer,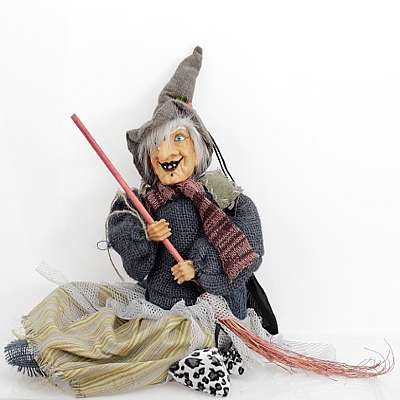 la Befana flies a broomstick from house to house where there are bambini, children, entering by way of il camino.

Where Babbo Natale is rotund, merry, white-bearded and dressed in red and white, la Befana is depicted as a smiling, grandmotherly-looking witch, wearing tattered clothing and covered in soot astride a broomstick.
Just like Santa Claus, la Befana's origins are nebulous, mainly the stuff of folklore, with many variations.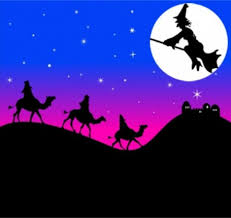 The most common story I encounter is that la Befana lived along the route the Magi took to Bettlemme, Bethlehem. In this version, they stopped at her house seeking food and shelter, but she wasn't feeling sociable and sent them away.
Later, la Befana had a change of heart and set out to find the Magi to accompany them to find the Christ Child. But by then, she was too late to catch up, and she never found the three kings or the baby Jesus.
So, as the story goes, to this day, at this time of year, she still travels the world, leaving gifts for every child, lest they be il Gesù Bambino, the Baby Jesus.
January 6, the Epiphany, marks the official end of the Italian Christmas holiday season. It is also said that la Befana takes away the old year, and i dolci, sweets, and regali she brings symbolize seeds to grow in the new year.
Many cities and towns hold special events and parties dedicated to celebrating la festa dell'Epifania/la Befana, Epiphany holiday. People play bingo and cards, and gather outdoors in the piazze, squares, for festivities, including music, processions, live presepi, nativity scenes, mercatini, open-air markets, and live appearances by la Befana.
And while it's mainly a celebration for the kiddos, you'll find adults getting in on the action, too, dressing up and parading around as la Befana.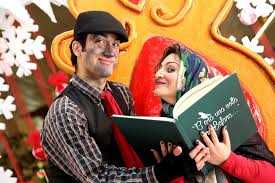 Feeling festive? Perhaps you want to get into the act, too… You could wish people "Buona Befana!," a popular greeting on January 6 in Italy.

This could be a great time to adopt a fun new tradition, with kids, family or friends. All you need is una calza, a stocking!
Buona Befana, and hope she brings you caramelle!

Have you heard of la Befana before? Do you have any special observances for Epiphany?
Have fun practicing the Italian words in this story on Quizlet!! Click here to access the Quizlet Christmas Round-up list, and use the password JODINA.