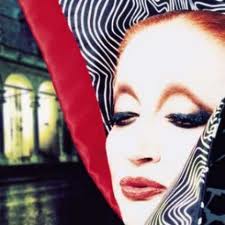 .
Mina – Bio info

(Links to music & video below)

Anna Maria Mazzini, born 25 March 1940, known simply as Mina, is an Italian pop singer with Swiss citizenship. Born to a working class family in Busto Arsizio, Mina grew up in Cremona and was college educated in accounting. She went on to become one of Italy's great modern female vocalists. Distinguished by the great extension and agility of her soprano voice and her image as an emancipated lady, she was a staple of the Italian television variety shows and a dominant figure on the Italian charts in the 1960s and 1970s. Mina combined several modern styles with the traditional Italian melody and swing music, making her the most versatile pop singer in Italian music. She dominated the Italian charts for fifteen years and reached an unsurpassed level of popularity in Italy.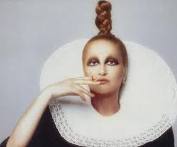 .
Mina's first TV appearances in 1959 presented the first female rock and roll singer in Italy. Her loud syncopated singing earned her the nickname Queen of Screamers (La Regina degli urlatori). For her wild gestures and body shakes, the publicity also labeled her the Tiger of Cremona (La Tigre di Cremona).
.
Mina's pregnancy and relationship with a married actor (Corrado Pani) caused her to be banned on the public Italian channels in 1963, because her lifestyle did not agree with the dominant catholic and bourgeois morals. After the ban, the Italian broadcasting service RAI continued, unsuccessfully, trying to prohibit her songs, which were forthright in dealing with subjects such as religion, smoking, and sex. To her 'bad girl' image, Mina added sex appeal and a cool act, featuring public smoking, dyed blond hair, and shaved eyebrows.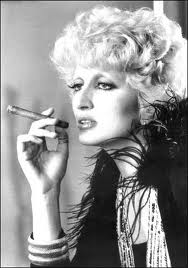 .
Mina's voice had distinctive timbre and great power. Her main themes were anguished love stories interpreted in a dramatic way. The singer combined classic Italian pop with features of blues, R&B and soul music in the late 1960s. Top Italian songwriters created material with large vocal range and unusual chord progression to showcase her singing skills.
.
Around 1978, the singer went into a sort of self-imposed exile in Switzerland. On March 30, 2001, after 23 years of reclusion, Mina's made her last public appearance, on video showing her in a recording studio. Mina remains somewhat of an enigma, and in these years of 'voluntary exile', she has declined to give interviews and has communicated with her fans only by way of her records and her columns in magazines such as Vanity Fair and contributions to Italian newspapers.
.
Here, a few Mina tunes I like (links to music & video):

Tintarella di Luna, a light upbeat tune considered 'surf pop', was Mina's first Italian #1 hit (1959). The name, "Tintarella di luna," means "Moon Tan", which was performed in her first musicarello (musical comedy film) "Juke box – Urli d'amore."
Io Sono il Vento, (I am the Wind), a song of a more dramatic flavor. Good collection of pictures here.
Le Mille Bolle Blu, (The Thousand Blue Bubbles), clip from the film "Mina… Fuori la Guardia"     — check out the hair, the set, etc…  Lady Gaga's got nothing on Mina! 😉