Amazing Amalfi: Sept 17-26, 2017
Come experience the magic of the Amalfi Coast at one of the best times of the year! Italy's southern jewel is steeped in rich culture, natural beauty, and ancient flavors.  Ten days here will leave you feeling refreshed and enriched. Enjoy the slow-paced, small-town atmosphere while touring ancient lava-preserved Roman excavations, visiting Greek ruins, touring a limoncello factory, tasting the freshest mozzarella, and jetting by hydra-foil to Capri. These and so many more adventures await you! The dazzling Amalfi coast is an intoxicating blend of dreamy seascapes, vertiginous terraced towns, intricate byzantine architecture, and ancient culture – all kissed by sea and sun, and studded with citrus groves that scent the air and give birth to limoncello, the coast's most celebrated libation.
Note: Because this tour is dedicated entirely to Italy's Amalfi Coast, you will experience Italy as it should be, immersed in the culture, the food and the beauty rather than long stretches of time on a bus. Your time will be well spent enjoying this area of warm sunshine, pleasant surroundings and getting to know Italy in a way that only this trip offers you.
"Jodina's tours are more relaxing than typical tours… they  allow you to truly experience Italy, blend in, feel less like a tourist, more like a local – especially because it's a small group. I felt like I was a part of the places we visited in a way I haven't experienced on other tours. We didn't "do" Italy, we embraced one area and immersed ourselves in it."   – S. Antonucci

---
Itinerary in Brief
Tour these towns and the beauties they hold:
Sorrento – Amalfi – Ravello – Positano – Pompeii – Mt. Vesuvius – Capri – Naples – Ischia – Paestum
Tours + Tastings + Excursions galore. Language & culture tips, too.
---
Tour cost: $3,585, double occupancy  |  Single supplement: $370
Sign-up and deposit deadline: June 1, 2017 | Deposit: $1000
---
Tour Includes: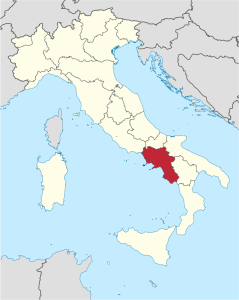 10 Days /9 Nights
9 Nights in quality, highly rated hotels
9 Breakfasts, 9 lunches or dinners
Small, boutique tour limited to 10-15 travelers
Numerous tastings of local, artisan specialties, including limoncello, mozzarella and other cheeses, yogurt, and wine; a cooking class; and traditionally prepared regional dishes at typical local restaurants.
Daily guided excursions (with local, English-speaking guides)
All entrance fees, restaurant gratuities, local hotel surcharges
Deluxe private transportation and rail travel to destinations included in tour
Ample free time to spend as you like
Tour accompanied by a multi-lingual host expert in Italian language and culture and trained in first aid and CPR. (English, Italian, Spanish, French)
Travel Language Instruction: Tour will feature informal pop-up lessons on useful Italian language & culture tips to help you feel more at home in Italy. (Note:  Knowledge of Italian not required for this trip.)
Downloadable "Travel Tips & Suggestions Guide" to help you prepare for your trip.
---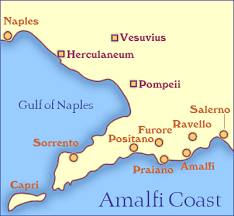 -Itinerary in Detail-
This tour is chock full of all the best the Amalfi Coast has to offer, and we've taken care of all the details… all you have to do is get here! Come join up with a small group of Italy aficionados for this cultural and gastronomic adventure. This is an amazing experience through Italy's brightest southern jewel! Here are the highlights of what awaits you …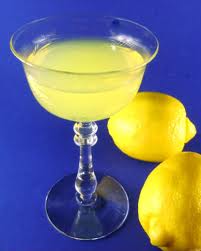 Day 1 – Welcome to the Amalfi Coast!

Arrive in Sorrento. Pick up your keys, get settled into our hotel in the beautiful heart of Sorrento,  and have a stroll around this charming town that will be our home base for the next 10 days in Italy. (That's right, get unpacked only once, and feel like you live here!) Group orientation and delicious welcome dinner in the evening.   Meals: D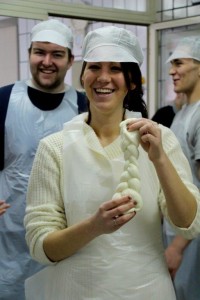 Day 2 – Sorrento, limoncello & mozzarella

Breakfast followed by a guided walking tour of Sorrento. Tour and tasting at a local limoncello factory, and a brief train ride to a village in the nearby hills to tour an artisan mozzarella cheese factory followed by a tasting and light lunch.   Meals: B-L
Today we'll drive the famous cliff-hugging Amalfi Coast for a breathtaking cruise to explore the scenic cliff-side coastal towns. We'll visit Amalfi and see its striking byzantine-style Cathedral, with free time to explore. Lunch at a typical family restaurant and then on to Ravello with a visit to Villa Rufolo and its gardens overlooking breathtaking views of the sea. Stop off at Positano, built into the side of a cliff, where steep steps replace streets, free time to shop and explore. Free evening.   Meals: B-L
 Day 4 – Pompeii: Roman ruins & vino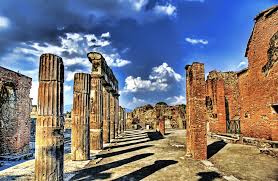 Guided walking tour of Pompeii. We'll  explore the amazing remains of this extraordinary city, immortalized by the eruption of Vesuvius in 79 AD. Next we'll head to an enchanting property on the slopes of Mount Vesuvius. There we'll walk through the vineyards and have a delicious lunch featuring typical regional dishes coupled with a tasting of the famous Lachryma Christi wine. Return to Sorrento. Rest of afternoon and evening free.   Meals: B-L
Day 5 – Mt. Vesuvius & Cooking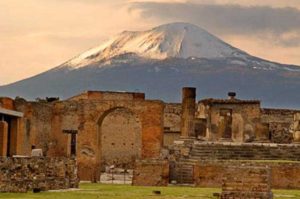 We'll take a ride up Mount Vesuvius following an ancient trail that affords breathtaking views of Pompeii dominating the Gulf of Naples. Traveling by ecological buses (the only means able to cross its rough surface), we'll climb to a height of 1000 m., from where we'll walk up to the crater (approx. 30 min., optional). Return to Sorrento. Lunch at your leisure. Late afternoon cooking class where we'll prepare and enjoy a delicious group dinner.   Meals: B-D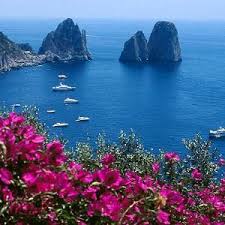 Day 6 – Capri: Chic island paradise

After breakfast, we'll jet over to Capri by hydrofoil to enjoy the day on this stylish and idyllic island. Guided tour to visit the sites of Capri and Anacapri and take in the stunning views. Lunch in a local restaurant. Tour continues with a visit to the famous "Piazetta" of Capri and free time to shop and explore. Return to Sorrento. Free evening.   Meals: B-L
Day 7 – Neapolitan Treasures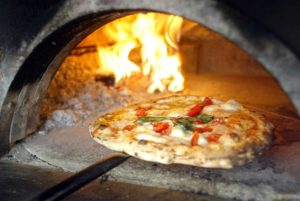 We'll spend the day in Napoli (Naples) visiting its most famous streets and important historical sites. A  visit to the birthplace of Caruso, Totò, Sofia Loren and pizza wouldn't be complete without visiting a local pizzeria for lunch! After, we'll discover the treasures at Napoli's Archeological Museum before returning to Sorrento. Free evening.   Meals: B-L
Day 8: Ischia: Pristine island paradise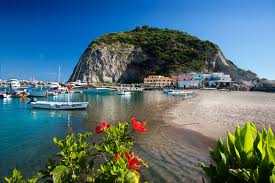 Today we'll hop over to the beautiful, uncontaminated island of Ischia.  Our tour will feature stops at the Belvedere to admire magnificent views of Citara Bay and the beach area of St. Angelo, with free time to shop, explore, or stay at the beach. Lunch at a local restaurant and then a visit to the famous Mortella gardens, featuring more than 3000 varietals of plants amidst fountains and pools. Return to Sorrento. Free evening.   Meals: B-L
Day 9 – Greek temples & more mozzarella!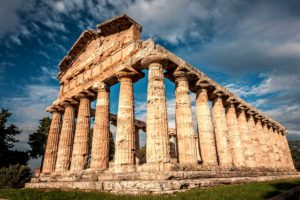 First stop a visit to Vanullo Farm with a tour of its buffalo ranch and mozzarella (made entirely by hand and considered the best quality of mozzarella) and yogurt processing facility.  Visit a leather goods workshop and the Permanent Museum of Rural Life (featuring tools and equipment from different periods). Our visit concludes with lunch and a tasting of dairy products. Next a guided excursion to the archeological site of Paestum, one of the best collections of Greek temples anywhere, dating back to the 6th century B.C., and a visit to the on-site Archeological Museum. Return to Sorrento. Free evening.   Meals: B-L
Day 10  –  Final breakfast, check out and departures. Arrivederci!
---
Tour Inclusions/Exclusions
Included: See Tour Includes section above.
Not included: Airfare and other transportation to/from Sorrento, travel insurance, gratuities for guides and drivers (at traveler's discretion). More info and travel advice below.*
Tour cost: $3,585, double occupancy  |  Single supplement: $370
Sign-up and deposit deadline: June 1, 2017 | Deposit: $1000
Love this trip?  Sign up, save your spot! (Limited space)
---
Special study option:  Arrive ahead of the tour (or remain after) and study Italian (short courses available) at a local Sorrento private language school at a special price for tour participants.  Click for info.
* More Info: Airfare and other transportation to/from Sorrento, Italy, is not included. This allows you the opportunity to use the airline(s) of your choice and customize your pre- and post-tour travel plans. Note that flights leaving the US for Europe arrive to their destination the following calendar day. (E.g., A flight leaving the US on a Saturday will arrive in Italy on Sunday.) Transfer from/to Naples airport or train station not included. We are able to coordinate private transport for you to/from Naples/Sorrento. Additional nights' stay at our hotel in Sorrento, pre- and post-tour,  may be available at a special price. Please inquire.
Visit FAQ Page for more travel suggestions and advice.