**NOTE THIS CLASS IS NOT CURRENTLY MEETING**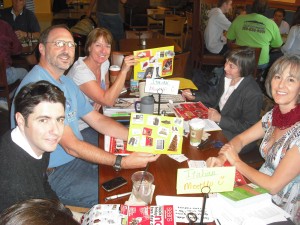 Saturday Italian Study + Conversation Group   (For All levels, beginner to advanced) Practice and improve your Italian in a supportive small-group class through topics focusing on Italian current events, traditions, history, travel and more. These immersive, relaxed classes are a fun way to kick off your weekend… Great as a supplement to another class or a self-study program.

Note to beginners

: Don't be shy! 🙂  This is a very supportive bunch of learners, and speaking the language is not required–you can learn a lot just by listening, and… You'll always find a warm Italian welcome among fellow Italian language lovers!]
Sat 10:30 am – 12:30 pm | Weekly, ongoing | $15/session or 5-class pass $65 (Save $10)  |  By RSVP Only |  Lush Lounge coffee shop, 324 Main St, Vista, CA

This group is on Meetup / Visit or Join Meetup >>
This  fun and informal yet structured and teacher-led class has been going strong since January 2010! Open to all levels, every week Jodina prepares a special lesson based on an Italian current event or tradition. Lessons are designed to give students practice in listening, reading, speaking, and writing Italian. Conversational and casual with on-the-spot grammar injections as needed!
All levels of learners benefit from this immersive-style class: Those who are able are encouraged to contribute to the conversation, and those not yet ready are supported and mentored by the more advanced students. Classes are interesting and lively, and students get a good language workout while enjoying themselves.

<< Students who attend regularly report significant improvement in comprehension and fluency. >>
** Join us — Newcomers welcome! **
. . . . . .
 Here's what students are saying:
"What a lovely group of fellow language & travel lovers. I completely enjoyed all of you. Jodina is a wonderful teacher and I am excited about learning Italian. Though having traveled to Italy on numerous occasions my linguistic skills are poor. I was surprised that my comprehension was much better than expected. This group is very supportive and the more advanced students help the less knowledgeable. I am so looking forward to more interaction with this wonderful group. Thank you Jodina for your teaching skills and making your group feel like friends and family!"             ~Linda Rufkahr

"Second time attending. Enjoyed it even better than the first time. Very nice informal way, at least for me, of keeping up with speaking Italian and getting to know other individuals interested in doing the same in an informal relaxed setting while sipping unlimited amounts of caffeine 🙂 Grazie Jodina!        ~ Biagio Agostinelli

"I had such a nice time even though it was my first time, it was wonderful. I can't wait to go back. It was very relaxed and fun. The group was very helpful and kind."        ~ Marianne Walters

"Oggi è stato molto divertente! We were laughing and having a great time while we were practicing our Italian! It really does work to have a group with all levels of proficiency!         ~Mimi Loutrel

"I had a wonderful time!! Everyone is very nice and extremely helpful. Jodina not only speaks the language so beautifully but also has so much knowledge of the culture. She is a very inspiring teacher. Thanks Jodina!!"            ~ Graziella Fenesy

"I had another wonderful time today. This group is such fun. I always leave the class feeling so energized. Jodina makes the experience so enjoyable and excels at keeping us focused and on task. She brings interesting and challenging material. Truly, I have NEVER attended a class that was this much fun!"     ~ Ellen Chiantelli

"Good experience, practical as well as friendly support within the group. I enjoyed the experience and felt like I had escalated my learning of Italian after first class."       ~ Carol

"Very enjoyable, creative way to learn spoken Italian."     ~ Rita McConn-Stern

" Some of the nicest people you will ever meet."                 ~ Donna Marie Klein

"This is truly the best and I would recommend this Meetup group for anyone who would like to interact with a variety of warm and inviting people. Even if you do not speak a word of Italian or ever plan to, this is such a wonderful outing that I wouldn't miss a single one. Grazie."             ~ Susan Antonucci

"The members were very enthusiatic. ( I membri erano molto entusiastici)"     ~Michael

"Dear Jodina! I'd like to thank you for the way you run the conversation group. I personally need to listen to Italian spoken so I can improve my comprehension. The exercises you use to get everyone involved and the way you speak and explain the task in Italian, and also talk about interesting stories and daily events really helps me a lot."                     ~ Tom Nikzad

"A great way to ask questions and practice Italian and to meet new people!"                  ~ Joanna Bravender