[Note: Any passages in Italian are subsequently translated into English.]
Il 7 dicembre a Milano viene osservato e festeggiato come il giorno di Sant'Ambrogio, il patrono della città. (The 7th of December in Milan is observed and celebrated as Saint Ambrose Day, the patron saint of the city.)
.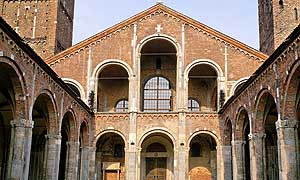 .
Hmmm… sounds pretty special, you might be thinking, and in many ways it is. On this occasion, the devout attend special services at la Chiesa di Sant'Ambrogio, the Milanese church dedicated to this saint. For the vast majority though, the most special thing about Saint Ambrose is that it falls the day before la Concezione Immacolata (the Immaculate Conception), the national Italian religious holiday celebrated December 8 – meaning two days off in a row, PLUS the addition of a 'ponte' (literally, a bridge) between December 7-8 and the weekend closest to these two days, creating a 4-5-day long weekend, depending which day of the week they fall on. (Just think, if you were living in Milano, right now you'd be just winding down from a mini vacation!)
.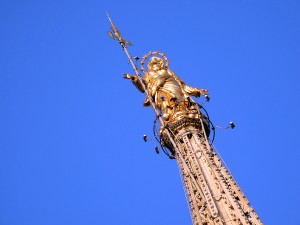 .
This is a picture of the statue of La Madonnina (literally 'the little Madonna', or the Virgin Mary, that graces the rooftop of Milan's majestic Duomo cathedral in the historic city center. La Madonnina (Madunina, in Milanese dialect) is also the nickname in Milano for Immaculate Conception Day. When referring to these days people often say Sant'Ambrogio e la Madoninna.
.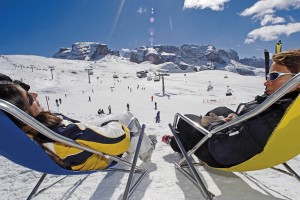 .
So while in namesake the celebration of Sant'Ambrogio (Saint'Ambrös, in Milanese dialect) sounds quite saintly, it plays out as a perfect kickoff to all aspects of the Milanese holiday season–both religious and worldly. E allora come passano i milanesi questi giorni liberi intorno alla festa di Sant'Ambrogio? (So then, how do the Milanese spend these days off for the Sant'Ambrogio holiday?)  What most do NOT do is work.  (The 7th and 8th are 'giorni festivi', or official holidays).
.
The two most popular activities are getting away for a skiing weekend — una gita bianca (a 'white'/ski trip) — with one of the most popular destinations being the village of Madonna di Campiglio nelle Alpi italiane (in the Italian Alps), and shopping.
.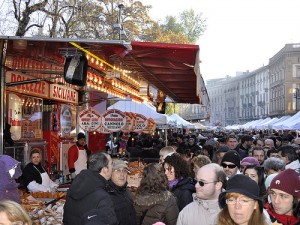 .
Those who stay in citta` (in town) use this time to fare shopping. (This is a very common phrase in Italian, and differs from fare la spesa, which means to do food/staples shopping – fare shopping is more like when you go from shop to shop, boutique to boutique, looking for treasures, and at this time of year, Christmas gifts, or regali natilizi).
.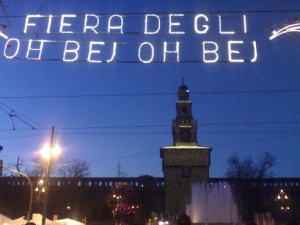 .
A very poplar shopping mecca this time of year is the famous outdoor market called 'la Fiera degli O'bej O'bej' (O'bej O'bej is a dialectical phrase roughly translating to 'O Belli, O Belli', which is what people exclaim when they see all the beautiful things for sale.) The Fiera degli O'bej O'bej (pronounced /o-bay o-bay/) dates back to 1300, lasts 3 days, and is held on the grounds of the Castello Sforzesco (Milan's historic Castle).
.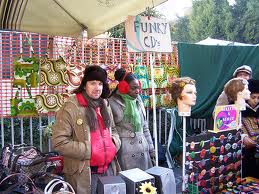 .
La fiera degli "Oh Bej Oh Bej" è costituita da centinaia di bancarelle coloriti che vendono profumi, cianfrusaglie, addobbi per l'albero di Natale ed il presepe, oggetti di antiquariato e qualsiasi altra cosa immaginabile a prezzi modici. (The O'Bej O'Bej market is made up of hundreds of colorful stalls selling perfumes, bric-a-brac, decorations for the Christmas tree and nativity scene, antiques, and anything else imaginable at modest prices.)
.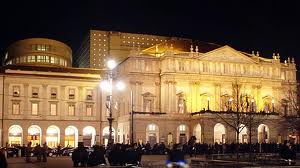 .
This early part of December in Milan is also when the new Opera season kicks off at the famous Teatro alla Scala opera house. This year the season begins December 7 with Richard Wagner's Die Walküre.
.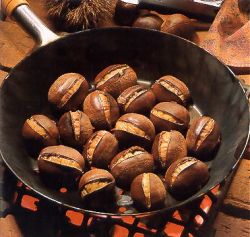 .
And even though it is a big and busy city, Milano still puts on a little sparkle for the holidays.  And as in many other places where Christmas is celebrated, much time preceding December 25th is dedicated to the hustle and bustle of trolling the shops for treasures, meeting friends and exchanging gifts, and strolling the streets enjoying the holiday decorations, lights, and the feeling of excitement in the crisp winter air.
.
One of my favorite things and memories about this time of year in Milano is the smell of chestnuts being roasted by street vendors, buying them in the paper cones they are sold in, and eating them while strolling through the city center. Ahhh… felicità. (happiness)
.
What do you enjoy about this season?  Love to hear your comments below! (Comment below the sign-up form.)
.