Tuscan Treasures: Sept 5-14, 2017
Come revel in the best of Tuscany in fall when the grape vines are ripe and ready for harvesting. Surrounded by those famous rolling hills and tall cypress, this tour will delight all of your senses! This 10-day trip through Italy's picturesque heartland is guaranteed to put you under its magical spell. Come see why Tuscany is so well loved. Taste traditional Tuscan cuisine, sip its renowned wines, visit castles, appreciate artistic masterpieces and so much more. On this tour, you can leave your cares behind … We've seen to all the details — your only job is to enjoy all the best Tuscany has to offer!
Note: Because this tour is dedicated entirely to the area of Tuscany, you will experience Italy as it should be, immersed in the culture, the food and the beauty rather than long stretches of time on a bus. Your time will be well spent enjoying this region of rolling hills, hearty food, rich history, and getting to know Italy in a way that only this trip offers you.
"Jodina's tours are more relaxing than typical tours… they  allow you to truly experience Italy, blend in, feel less like a tourist, more like a local – especially because it's a small group. I felt like I was a part of the places we visited in a way I haven't experienced on other tours. We didn't "do" Italy, we embraced one area and immersed ourselves in it."   – S. Antonucci

---
Itinerary in Brief
Tour these towns and the beauties they hold:
Florence – Chiantishire: Greve in Chianti, Panzano in Chianti, Monteriggioni – Siena – Lucca – Cinque Terre – Garfagnana Valley – The hill region of Lucca and Montecarlo
Tours + Tastings + Excursions galore. Language & culture tips, too.
---
Tour cost: $3,450, double occupancy  |  Single supplement: $535

Tour sign-up deadline: Feb 6, 2017.  Deposit: $1000. Registration links below.

---
Tour Includes: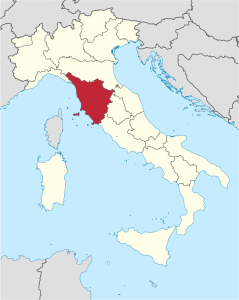 10 Days /9 Nights
9 Nights in 4-star quality hotels
9 Breakfasts, 9 lunches or dinners
Small, boutique tour limited to 10-15 travelers
Numerous tastings of local, artisan specialties, including olive oil, cheese, balsamic vinegar, grappa lots of wine, and traditionally prepared regional dishes at typical local restaurants
Daily guided excursions (with local, English-speaking guides)
All entrance fees, restaurant gratuities, local hotel surcharges
Deluxe private transportation and rail travel to destinations included in tour
Ample free time to spend as you like
Tour accompanied by a multi-lingual host expert in Italian language and culture and trained in first aid and CPR (English, Italian, Spanish, French)
Travel Language Instruction: Tour will feature informal pop-up lessons on useful Italian language & culture tips to help you feel more at home in Italy. (Note: Knowledge of Italian not required for this trip.)
Downloadable "Travel Tips & Suggestions Guide" to help you prepare for your trip
---
-Itinerary in Detail-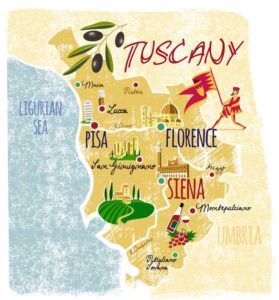 This trip is a gem! All the best of Tuscany, on and off the beaten path.  We've thought of everything, all you have to do is get here! See Tuscany's special places… those towns, that art… skip the lines and travel in comfy private transport. Free time at the end of each day for you to wander, shop, dine, and recharge as you wish. Here's what's awaits you…  What are you waiting for?! 🙂
Day 1 – Welcome to Tuscany!

Arrive in Florence, check into our hotel located in the cultural heart of Firenze (aka Florence), within minutes from the Duomo, Uffizi and Ponte Vecchio. Stroll the neighborhood at your leisure and enjoy a delicious group welcome dinner in a typical "osteria" (a restaurant serving local wines and delicious traditional home-style cooking).   Meals: D
Day 2 & Day 3 – Florence: Cradle of the Renaissance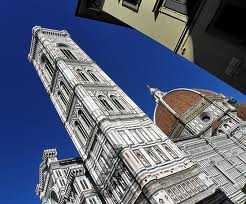 Our tour kicks off in Tuscany's vibrant capital city of Firenze, known for its art, historical and religious buildings and museums, and lively markets. Guided walking tours will include the stars of this ancient medieval powerhouse, including visits to its famed Duomo and Baptistery, Palazzo Vecchio, Palazzo Pitti (of the Medici Family), the Boboli Gardens and Piazzale Michelangelo for  a stunning  view of the city from high on a hill. Learn about Firenze's rich history as one of the wealthiest cities of the Renaissance. Tour the Uffizi and some of the Renaissance's finest works of art, and the Accademia, including Micheangelo's sculpture of David.  We'll have lunch in typical local restaurants, including a grappa tasting. Late afternoons free to explore Firenze and visit its colorful, bustling Mercato Centrale and San Lorenzo Markets. Evenings free to stroll, dine, rest as you wish.   Meals both days: B / L / Grappa tasting.
 Day 4 – from Chiantishire to Siena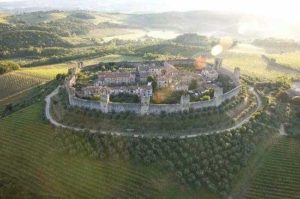 After breakfast, we'll head to Chianti country. With its instantly recognizable red-tiled roofs, farmhouses, cypress and winding roads, Chianti is one of Tuscany's most attractive areas. First stop, Castello di Montefioralle, which is actually a castellated village. We'll visit a local family-run vineyard and wine production facility and taste a selection of their best Chianti, Super Tuscan and Vin Santo wines, served with onsite-produced pecorino and aceto balsamico. On to Panzano in Chianti (of Roman and Etruscan origins) for an amazing smorgasbord at one of famous butcher Dario Cecchini's restaurants. After, we'll tour Monteriggioni, one of the most important and intact castles of the region and cited by Dante Alighieri in the Divine Comedy. Later we'll check into our hotel in the historical heart of Siena. Free evening.   Meals: B / L / Wine tasting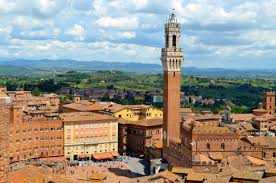 Day 5 – Siena: A step back to Medieval Tuscany

Starting from our hotel located inside Siena's old city walls, we'll explore this evocative medieval town and wander its narrow streets, visiting Il Campo – Siena's central piazza where its famous Palio horse race takes place every summer, the Torre del Mangia and the Duomo. Lunch break at a typical osteria featuring the region's typical "pici" pasta. Rest of afternoon and evening free in Siena.  Meals: B / L
Day 6 – Lucca: Between history and legend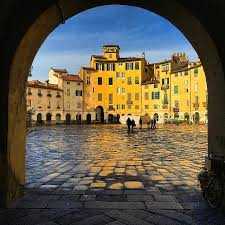 After breakfast, we leave Siena for lovely Lucca. We'll tour this endearing town's narrow winding streets and inner courtyards, all interconnected via vaults, passages and asymmetrical piazzas. We'll admire its churches, monuments, and towers, and walk (or bike) Lucca's impressive Renaissance walls encircling the almost completely intact historical town center. We'll enjoy typical local food, wine and cakes in a traditional Lucchese osteria. Check into our hotel located near the old city walls.  Rest of afternoon and evening free to roam, take a bike ride, shop, dine, rest as you wish.   Meals: B / L
Day 7 – Cinque Terre : A collaboration between man and nature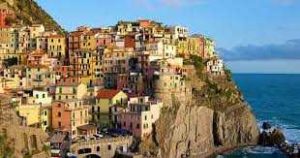 After breakfast, we'll take a short train ride to the Cinque Terre, a string of centuries-old seaside villages on Italy's rugged Riviera coastline. Traveling by train, we'll visit each of the five towns, admiring their striking, timeless beauty. Built on narrow ribbons along the sea and featuring terraced cultivation, the Cinque Terre are the result of thousands of years natural water erosion and patient human work, with hundreds of bays and small creeks and countless hand-laid stone walls. We'll lunch in Vernazza, at a restaurant known for its fresh seafood specialties and taste the delicious local sciacchetrà wine. Return to Lucca by train. Evening free.   Meals: B / L / Wine tasting
Day 8 – Garfagnana: Land of ancient flavors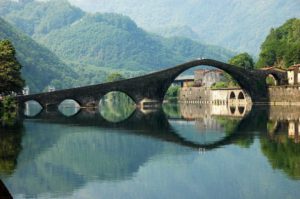 After breakfast, we'll enjoy a beautiful ride through Garfagnana, or great forest, a beautiful verdant valley north of Lucca, immersed in expansive lush forests surrounded by the Appennines and the Apuan Alps. A lesser visited part of Tuscany, we'll explore the Garfagnana's treasures, including a visit to Vagli in the heart of the valley, a small mysterious village submerged in a lake, about which many speculations and fantastical legends abound. Tour a magnificent marble quarry and meet the "cavatori" who extract the marble. Enjoy beautiful views as we take the "Ponte del Diavolo" (Devil's Bridge) to cross the Serchio River that crosses the entire valley, responsible for its thriving greenery. Lunch in a typical countryside trattoria as we take in the stunning views. Return to Lucca. Evening free.   Meals: B / L
Day 9 – The hill region of Lucca & Montecarlo: The wine & olive oil trail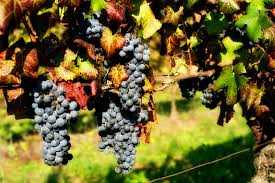 To taste the wine and extra virgin olive oil of the colline lucchesi (the hills around Lucca), and to breathe the smell of the land where these delicacies are produced, is to understand the soul of Lucca, and that's exactly what we'll do today. Walk through vineyards and olive groves, and discover small and unusual villages where time has stood still. Visit a typical local farm for lunch, and taste Lucca's finest olive oil and wine as we admire some of the best views of this enchanting area. Return to the city; rest of afternoon and evening free. Special treat! Our tour coincides with Lucca's annual "Luminara di Santa Croce", a local festival (complete with candlelit procession and fireworks) taking place this evening in the town's historic city center!   Meals: B / L / Olive oil tasting, Wine tasting
Day 10  –  Final breakfast, check out and departures. Arrivederci!
---
Tour Inclusions/Exclusions
Included: See Tour Includes section above.
Not included: Airfare and other transportation to/from Florence or Lucca, ground transfers to/from hotels, travel insurance, gratuities for guides and drivers (at traveler's discretion). More info and travel advice below.*
Tour cost: $3,450, double occupancy  |  Single supplement: $535

Tour sign-up deadline: Feb 6, 2017.  Deposit: $1000

Love this trip?  Sign up to reserve your spot!  Space is limited.
---
Special study option:  Arrive ahead of the tour (or remain after) and study Italian (short courses available) at a local private language school at a special price for tour participants.  Click for info.
* More Info: Airfare and other transportation to/from Florence and Lucca, Italy, is not included. This allows you the opportunity to use the airline(s) of your choice and customize your pre- and post-tour travel plans. Note that flights leaving the US for Europe arrive to their destination the following calendar day. (E.g., A flight leaving the US on a Saturday will arrive in Italy on Sunday.) Transfer from/to Florence or Lucca airports or train stations not included. We are able to coordinate private transport for you to/from Naples/Sorrento. Additional nights' stay at our hotel in Sorrento, pre- and post-tour,  may be available at a special price. Please inquire.
Visit FAQ Page for more advice on booking airfare and other travel info.