---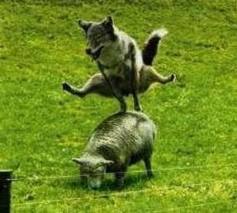 Salve!
Ecco la frase idiomatica della settimana = Here's your weekly Italian Idiom, brought to you by Italiano With Jodina:
In bocca al lupo!
Literally, this means "in the wolf's mouth" and is used to wish someone luck, as with "buona fortuna."  In bocca al lupo is similar to the expression, "Break a leg," except that it's used in any situation, not just in acting or performance settings.
There is also a response sometimes used when someone tells you "in bocca al lupo," and that is, "crepi il lupo" — literally meaning "may the wolf kick the bucket." It would be like saying, "Yes, when I put my head in the wolf's mouth, may it drop dead" (rather than biting my head off!) . . . a metaphor for coming out on top in the face of a difficult or challenging situation.
Have a great week, and in bocca al lupo!